Membership Packages are the subscription plans that your users can purchase. You can create unlimited packages by configuring different options and prices In this section, we will see how to create them.
Create a New Membership Package
In your left sidebar navigate to Real Estate >> Packages > Add New Package
When you will click the Add New Package button, you will see the below options for your package which is shown in the below screenshot: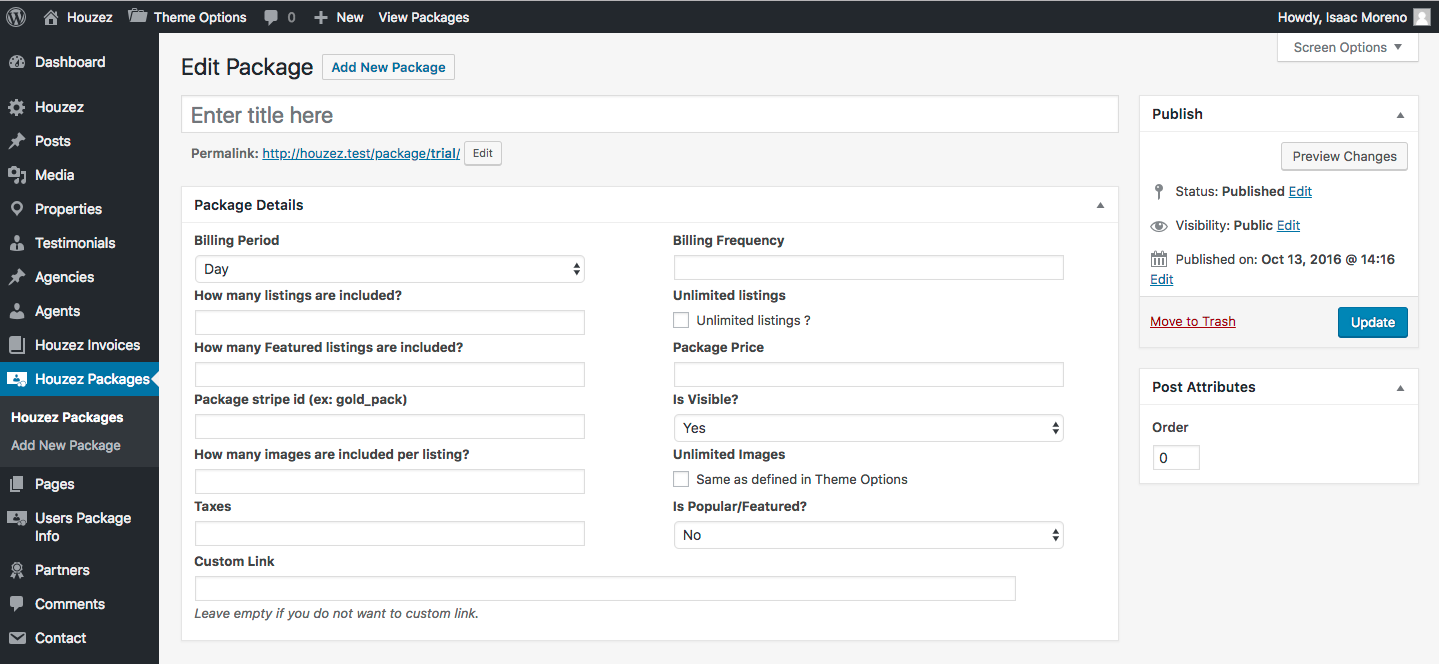 Title

Give your Package a name (Title), this will be the Membership/Package name that your users will select/buy from your website to have access to your services (listing, add properties, etc.)
Billing Period & Billing Frequency
The billing period is the unit of measurement of your billing frequency. For example, if you want to create a 3 months Membership Package, please select.
Billing Period: Month
Billing Frequency: 3
Listing Included

Select the number of included listing and feature listing or leave them unlimited with the following option
How many listing are included: Add Number
How many Featured listings are included: Add Number
Unlimited listing: Check this option if you want to leave them unlimited
Package Price: Add price
Other Options
Package Stripe id: Add stripe package ID (ie: gold_pack). Check How to set up a Stripe Membership Package
Is Visible: You can hide or display this package at your choice
Is Popular/Featured: Check this option to make this package to stand out
Taxes: Applied taxes
Custom Link: optionally you can add a custom page link for the package
Note: You need to create a package for each kind of membership plan you want to offer to your users.
Add the Packages Page
Once you create all membership packages, in your left sidebar navigate to Pages > Add New to create a new page and from the Page Attributes box located in the right sidebar select Template: Packages
When a user will proceed to select a package will see the page below.