PayPal is a service that enables you to accept payments. The PayPal API setup makes it possible to link your website or mobile app to your PayPal account. You can then process transactions sent from customers directly with your chosen payment processor. This article will explain how to set up your PayPal so that you can accept payments through your website.
PayPal API Setup
PayPal is a service that enables you to accept payments. To enable PayPal payments to access your admin panel and navigate to Theme Options > Payments Gateways > PayPal Settings.
Enable Paypal: Choose if Enabled or Disabled
Paypal Client ID: Enter Paypal client ID
Paypal Client Secret Key: enter Paypal Client Secret Key
Paypal Receiving Email: enter Paypal Receiving Email
Obtain Client ID and Client Secret from PayPal
Prior to configuring the PayPal Payment Gateway integration, an organization must have a PayPal business account. To retrieve the Client ID and Client Secret values required for configuring a payment account in Cornerstone:
Go to: https://developer.paypal.com/developer/applications/ and log in with your PayPal business account credentials.
Navigate to the My Apps & Credentials tab and click the
button in the REST API Apps section. This allows the Cornerstone system to authenticate with PayPal and process refunds.
Name the application (this does not impact the integration) and associate the sandbox test account.
Click the
button.
The App will be created and the administrator can copy the

Client ID

and

Secret

from this page for the sandbox environment into the Modify Payment accounts page in their Cornerstone Stage environment.
Note: These values do not expire, but they can be disabled by an administrator if needed.

In order to view the Client ID and Secret values for the Cornerstone Production environment, click the Live tab in the upper-right of the PayPal business account page and repeat step four in the Cornerstone Production environment.
Add PayPal IPN for recurring payment
1) If you Enable Auto Recurring payments in Theme options > Payments Gateways, in your left sidebar navigate to Pages > Add New to create a new page and from the Page Attributes box located in the right sidebar select Template: PayPay Webhook (Recurring Payments) and Publish the page.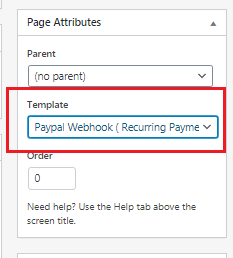 2) Add your create webhook page url for PayPal IPN
Go to https://www.sandbox.paypal.com/ for setup Paypal IPN
PayPal IPN Setup Video