The header is probably one of the first things you will want to set up on your website. The header consists of a series of elements such as logo, navigation menu, social icons, and contact information. The theme is provided with several options to customize the header and its content. All these elements, such as colors, fonts, images, etc. can be customized without touching any code.
Houzez offers five different Header Layouts, each with its own design and set of options. Please follow the documentation below to learn more about header settings.
How select the header style
Navigate to Theme Options > Headers > Style
Select Header Style: choose from style One, Two, Three, Four, Five or Six.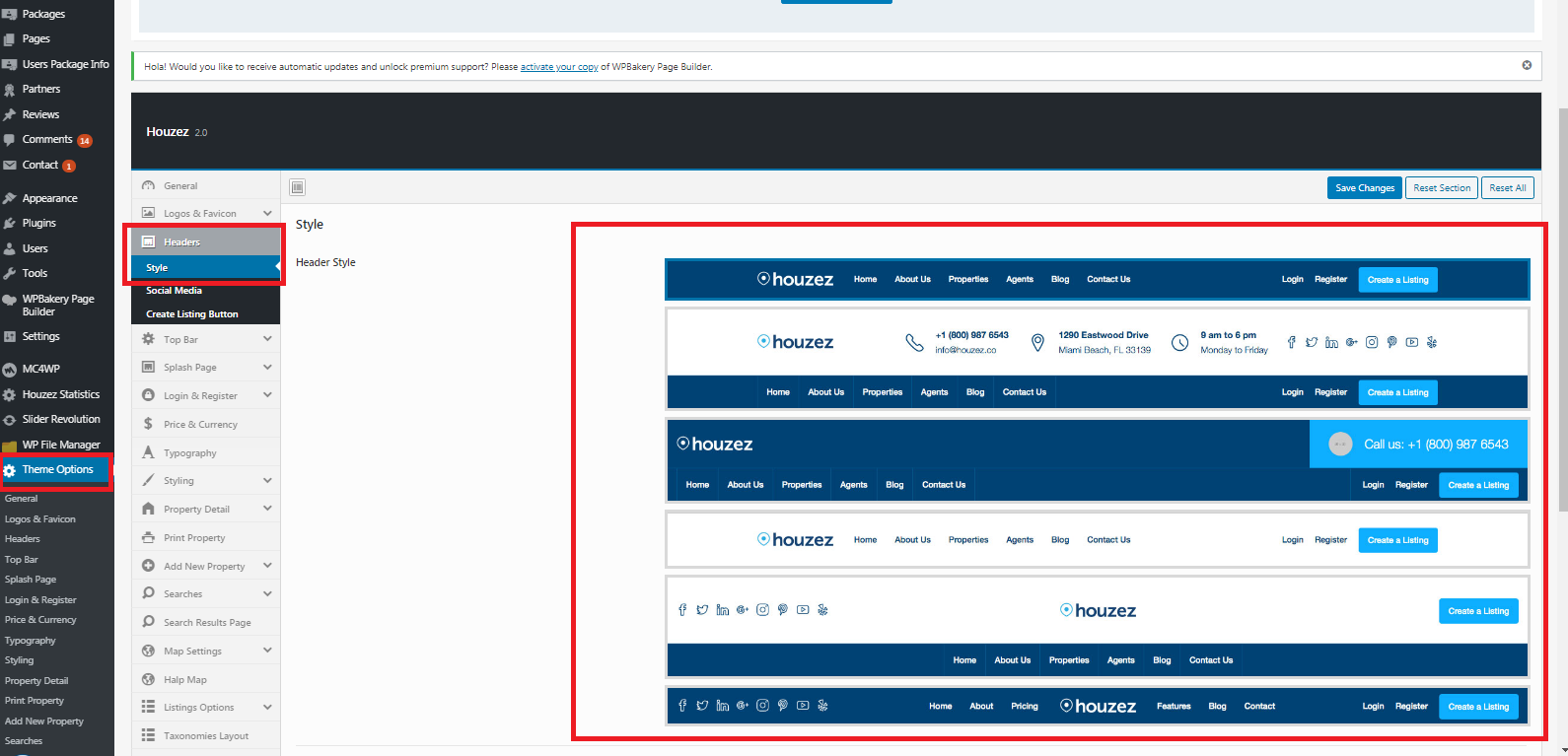 Based on the Header style you select different options that will be displayed. The Header Layout, Navigation Align, Sticky Menu - Desktop Devices and Sticky Menu - Mobile Devices options are there for all the header styles.
Header Layout: Select Boxed or Fullwidth
Navigation Align: Select Left or Right Align
Sticky Menu: Enable/Disable sticky menu
Mobile Sticky Menu: Enable/Disable sticky menu in mobiles
Header style 1
Below is an example of how you can set up the Header Style 1 – Click here to setup Header Style 1
Header style 2
Below is an example of how you can setup the Header Style 2 – Click here to setup Header Style 2

Header style 3
Below is an example of how you can setup the Header Style 3 – Click here to setup Header Style 3
Header style 4
Below is an example of how you can setup the Header Style 4 – Click here to setup Header Style 4

Header style 5
Below is an example of how you can setup the Header Style 5 – Click here to setup Header Style 5

Header style 6
Below is an example of how you can setup the Header Style 6 – Click here to setup Header Style 6
Transparent header style
Below is an example of how you can set up the Transparent Header – Click here to set up the Transparent Header Style