Introduction
Houzez gives you the chance to track the activities of the users on your site. You are stay updated about all the important activities on your properties. You can now see exactly what your team is up to. Communication between agents and clients, lead acquisition, new favorites – these are just some of the things you can see.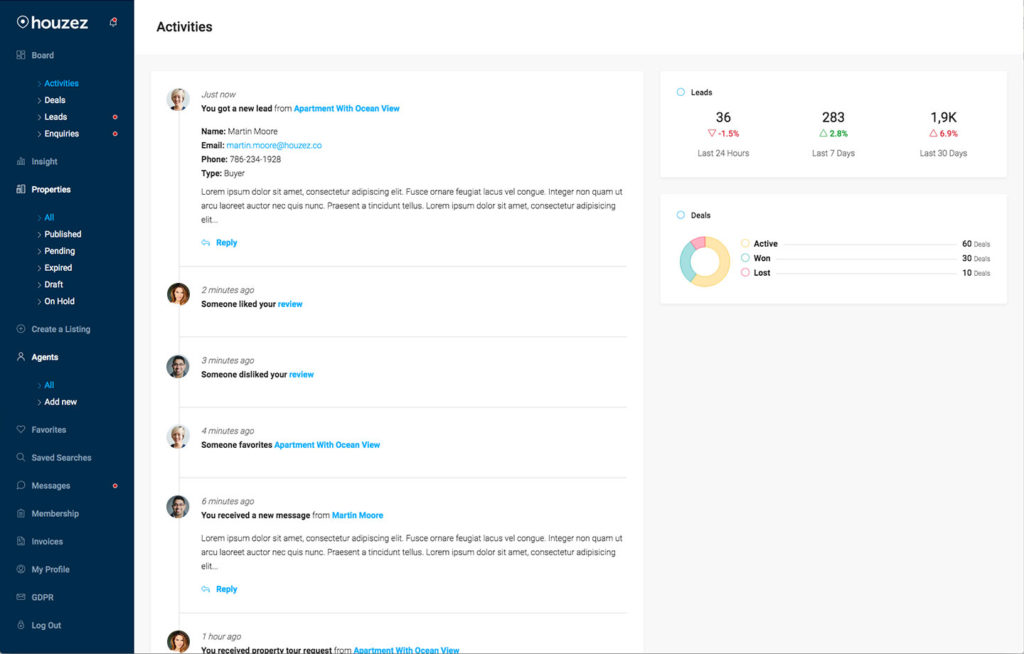 How Activities are Collected
The activities section gets the data from all the other fields related to the CRM. The activities get the data from the below sources.
Leads: The leads created by the users. You can read more about leads

here

.
Deals: The deals offer from the users You can read more about deals

here

.
Inquiries: Inquiries made by the users on the site and about properties. You can read more about inquiries

here

.
Activities Recorded
The activities recorded from the following sources automatically on the site when the user:
New Lead: When the user add the new lead from the dashboard menu.




Favorite Property: When the user add the property into his/her favorite section then the activities get the data from the favorite property section as well.



You will see the activities like this in the Activities section:




New Message: When the user sent the message to the host or the property owner that activity also showing in the activities section like shown in the below screenshot:




New property Tour Request: When the user or buyer schedule a tour on the property page, this also shows in the activities section as shown in the below screenshot:




New Rating: When the user gives the rating on the property review section, it is also recorded for the activities section as shown in the below screenshot: