Introduction
Easily Manage Your Leads Generating Potential Business Opportunities. View every potential lead, its source, contact info, and other important data to be able to create the most efficient way to turn them into sales.
How a Lead is Collected
You can get the leads from the 5 different sources from the site or properties.
Contact Agent Form: The first source to collect the lead from the contact agent form from the properties sidebar as shown in the below screenshot:
Contact Information form: The second source is the same contact form but the contact form which is showing in the property content under the agent contact information section:
Agent Contact Form: The third source is from the agent contact form on the agent details page, when you click the send email button you will see the agent contact form popup like shown in the below screenshot:
Contact/Inquiry Form Elementor Widget: The fourth source is from the Contact and Inquiry form Elementor Widget (see Example here). Where ever you have added the Contact and Inquiry form Elementor widget you can also get the leads from the customers: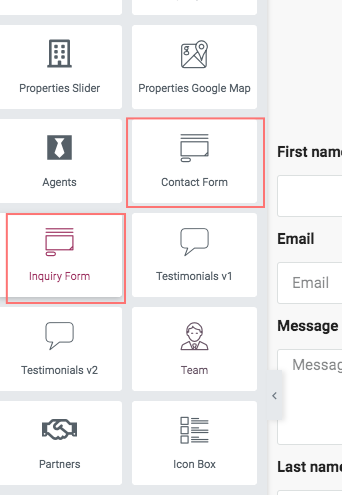 5. Schedule Tour Form: The fifth source is from the Schedule tour form on the Property detail page. When the customer schedules the tour for the property visit this will add as a lead in the Activities: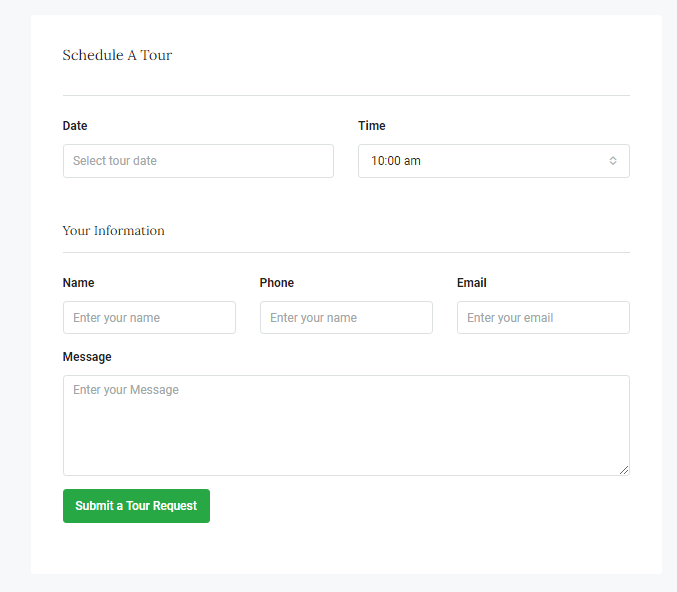 Which Collection we get from Leads
You can get full information about the users through the leads. You can get the below information from the users:
Full Name
Type of buyer or agent
Email
Mobile Number
Home Phone Number
Work Phone Number
Address
Country
City
County /State
Postal Code/ Zipcode
Source from where the user knows about you or your site.
Social profile URLs( Facebook, Twitter, and Linkedin)
The user also adds a private note.
How to Add a New Lead
The user can easily add the new lead from the user dashboard menu.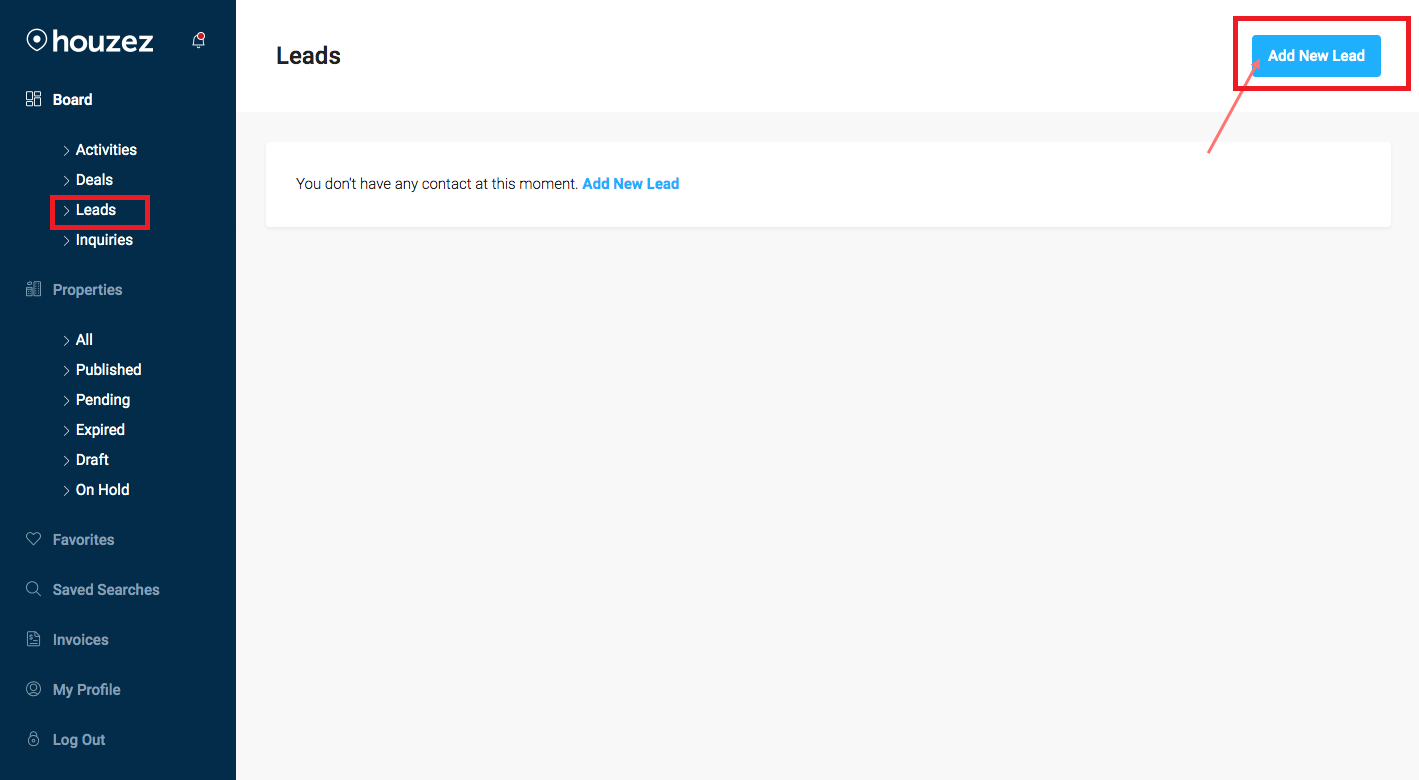 Lead Details
After adding the new lead by the user you can see the details of the leads from navigating to User Dashboard >> Leads >> Click the Action button to see the details.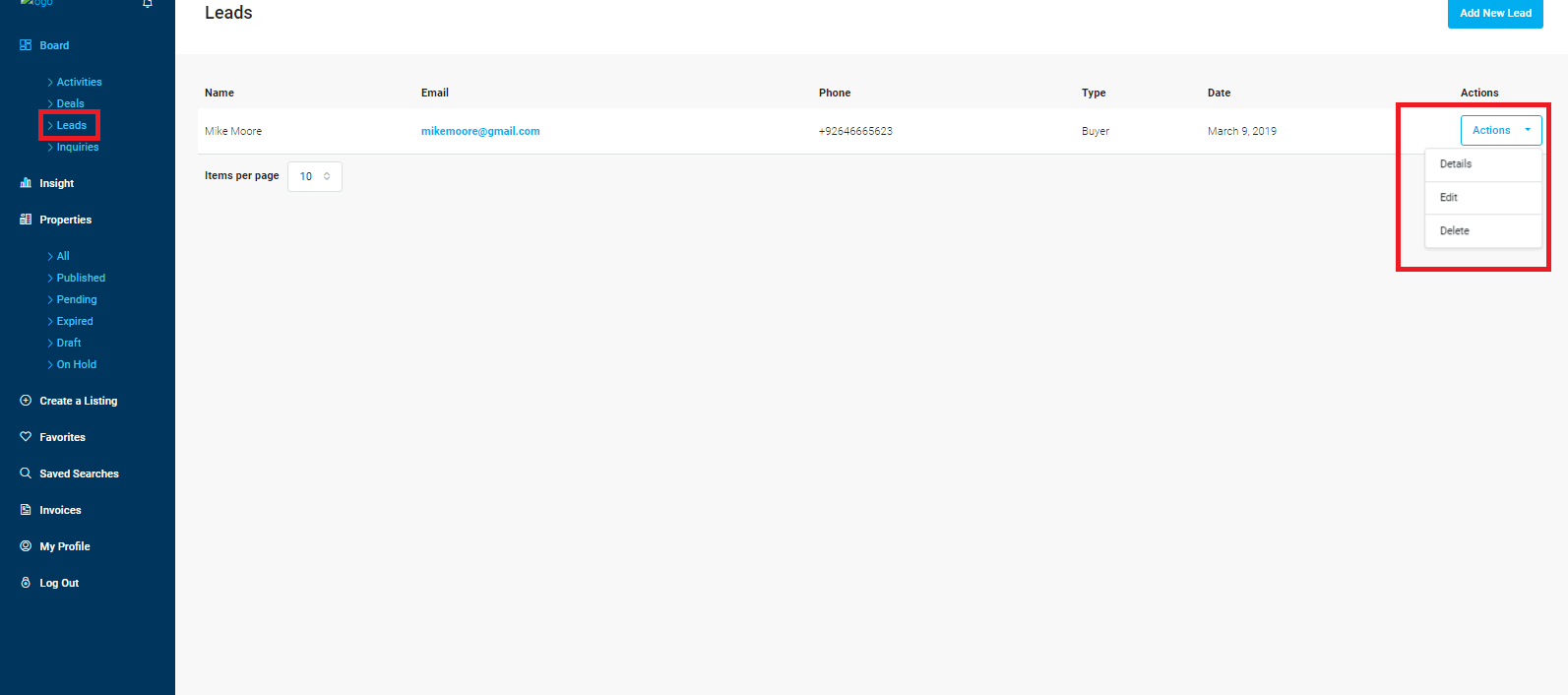 After clicking the details button you will redirect to the new detail window of the lead like shown in the below screenshot: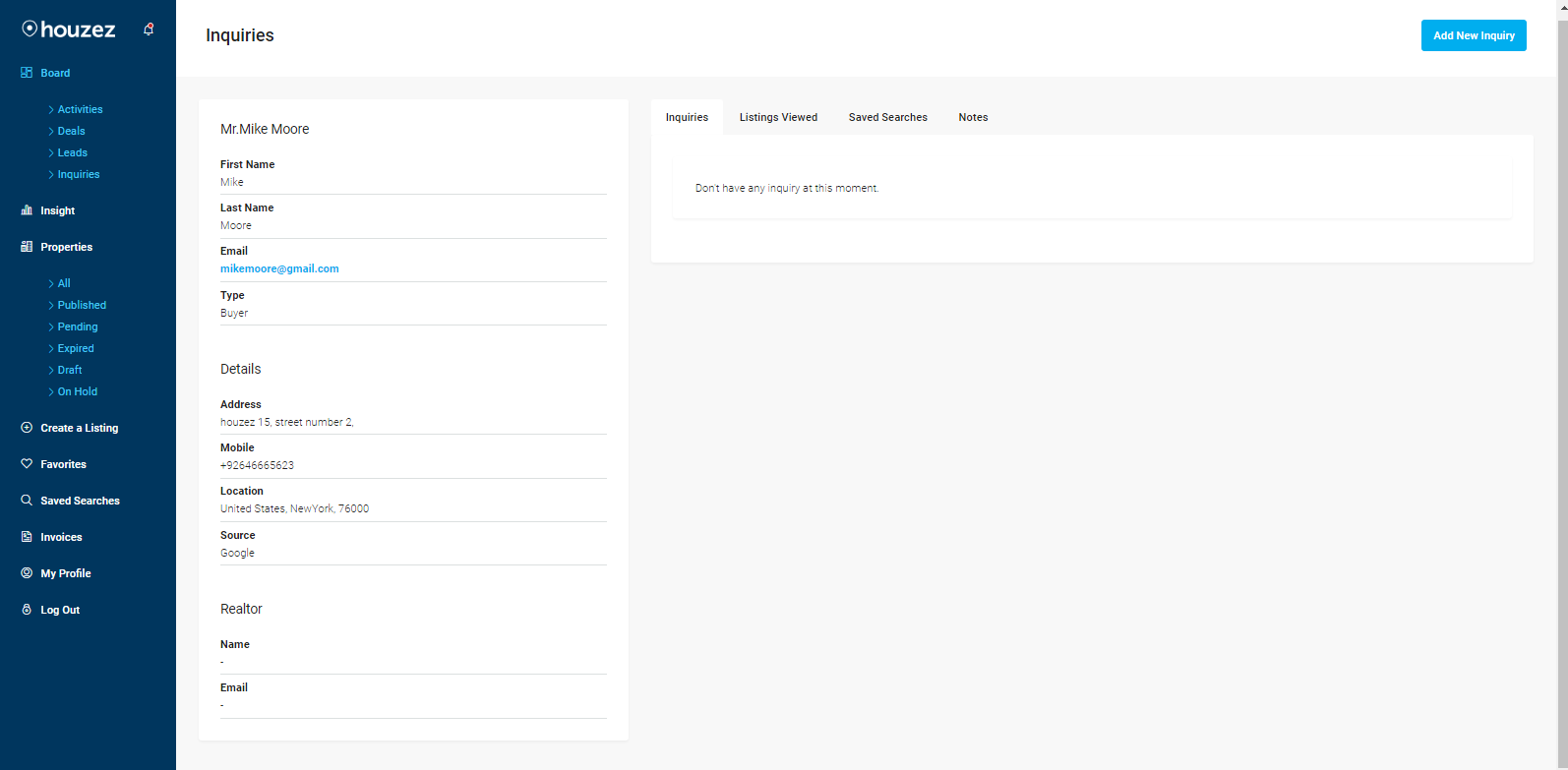 In the above screenshot, you will see the four tabs related to the user.
Inquiries: Manage Real Estate Inquiries And Stay In Touch With Your Customers. Answering inquiries of any potential lead in a timely manner is key to making sales. Never miss a question with our easy-to-use Inquiries panel.
Listings Viewed: Also you can check the data about which listings were most viewed by the users.
Saved Searches: You can check the saved search of the users as well.
Notes: You can also see the important data or notes added by the user for the most efficient way to turn them into sales.