The Team Element allows you to display and customize your team member profile. To use the Team element be sure that you are working on an Elementor page template.
Add the Team Widget to a Page
Activate the Elementor Page Builder >> Go to Pages >> Add a New Page >> Select the Elementor page template from the Page Attribute section as showing in the below screenshot: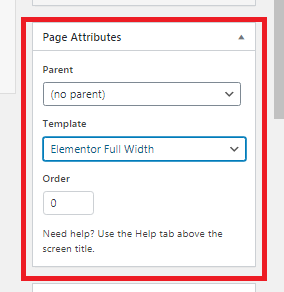 Then click the Edit with the Elementor button to edit the page with the Elementor page builder.
After clicking on the Edit with Elementor button you will redirect to the Elementor page builder to see the Elementor Page Builder section appear. Drag and drop the Team widget from the Houzez Elements section to the page as showing in the below screenshot:
Team Content

Settings
Once you have dragged the element on the page, you will see the element options in the left tab and you will see the content settings.
Image: Choose the team member image to upload
Name: Enter team member name
Position: Enter the team member position like Real Estate Agent
Description: Enter short team member description or bio
Custom Link: Enter a link at your choice, it could be a page of your website or an external link
Facebook Profile Link: Enter Facebook profile or page link
Facebook Target: Choose between Self, Blank or Parent
Twitter Profile Link: Enter Twitter profile
Twitter Target: Choose between Self, Blank or Parent
Linkedin Profile Link: Enter Linkedin profile or company page link
Linkedin Target: Choose between Self, Blank or Parent
Pinterest Profile Link: Enter Pinterest profile link
Pinterest Target: Choose between Self, Blank or Parent
Google Plus Profile Link: Enter Google Plus profile
Google Plus Target: Choose between Self, Blank or Parent