Keep track of all your leads and customers without having to pay for an external CRM solution.
Template Houzez CRM
This page is required to have a Customer Relationship Management system in the user Dashboard. Keep track of all your leads and customers without having to pay for an external CRM solution.
In your left sidebar navigate to Pages > Add New to create a new page and from the Page Attributes box located in the right sidebar select Template: Houzez CRM and Publish the page.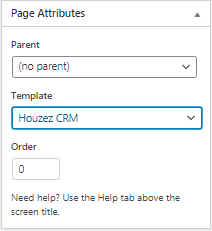 Features of CRM
Track Activities
Track Performances
Manage Deals
Track Activities
Stay Updated About All The Important Activities On Your Properties. You can now see exactly what your team is up to. Communication between agents and clients, lead acquisition, new favorites – these are just some of the things you can see.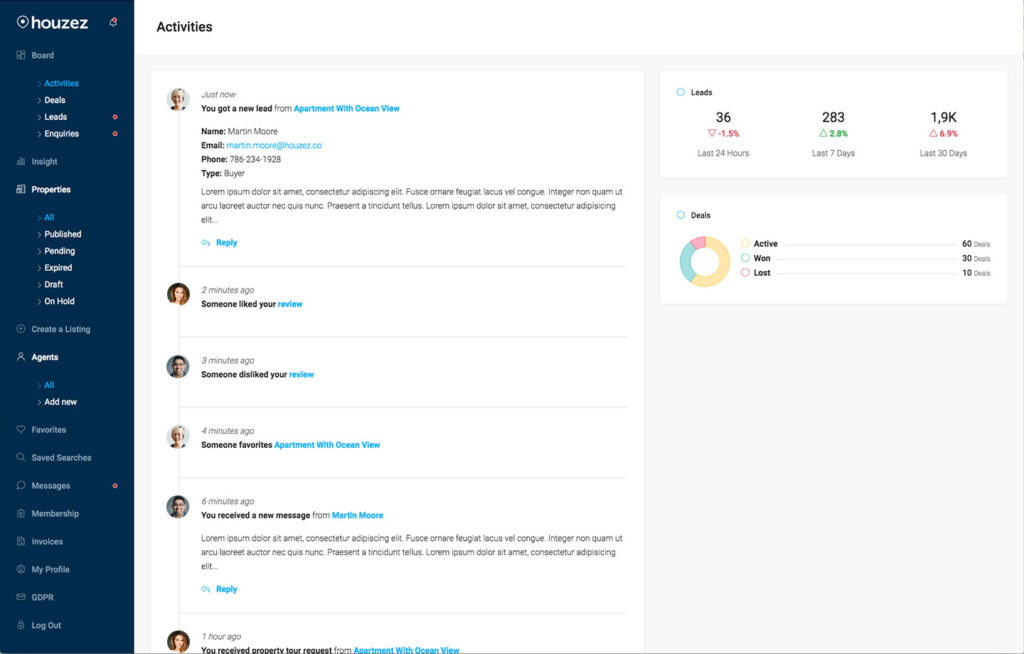 Leads Management
Easily Manage Your Leads Generating Potential Business Opportunities. View every potential lead, its source, contact info, and other important data to be able to create the most efficient way to turn them into sales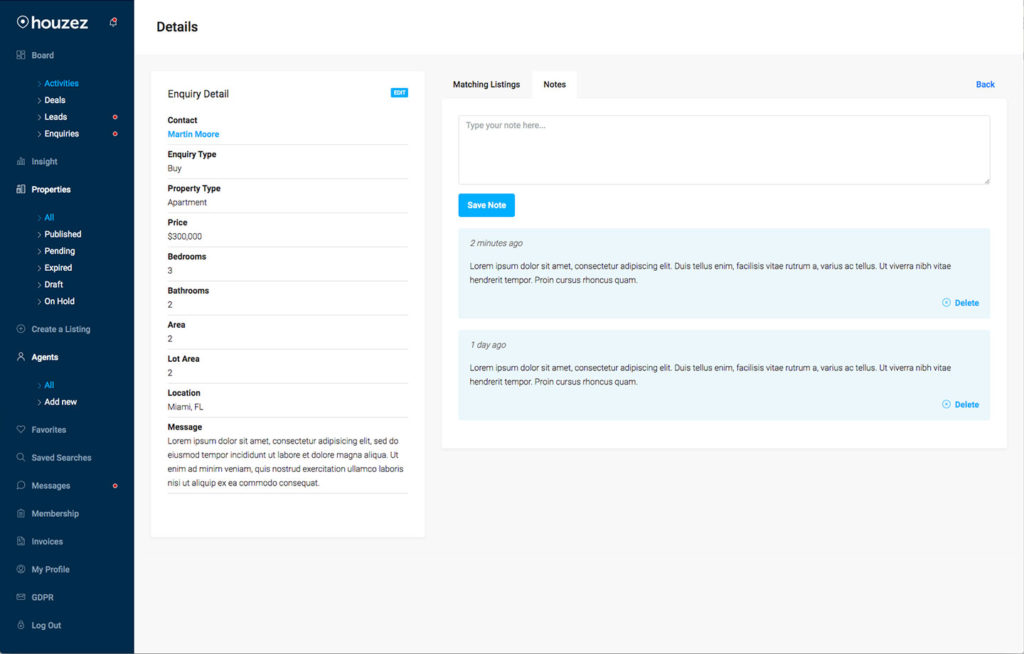 Inquiries Management
Manage Real Estate Inquiries And Stay In Touch With Your Customers. Answering inquiries of any potential lead in a timely manner is key to making sales. Never miss a question with our easy-to-use Inquiries panel.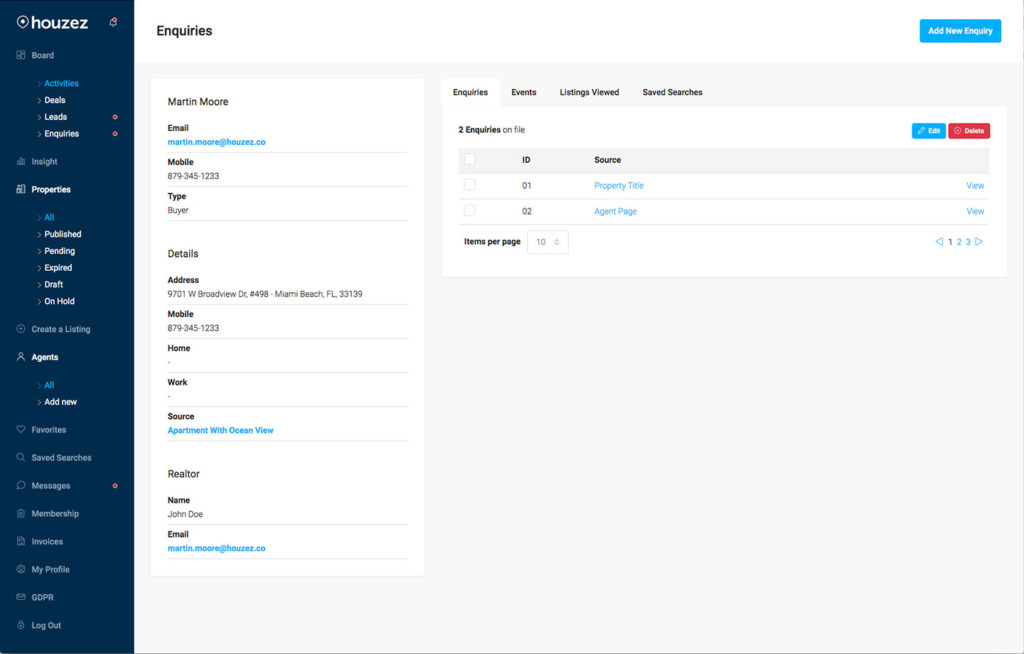 Track Performances
Track Deals and Activities Performance. What is the point of storing data if it can't be visualized to give you meaningful insights? Houzez lets you see what's worked and what hasn't with handy charts and diagrams.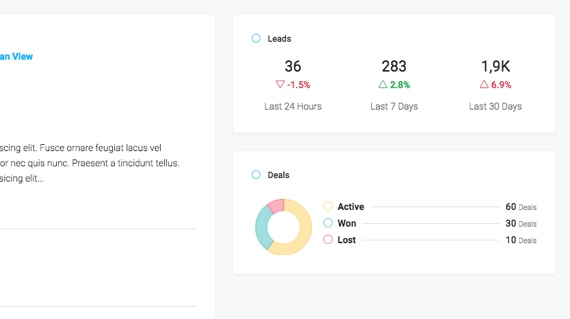 Manage Deals
Keep Organized With Your Leads. Track All The Related Activities To Close A Deal. Keeping track of all the ongoing deals helps you stay on top of your game. Know the exact status of all your current transactions and follow up if necessary.
User Dashboard Insight
Gain an in-depth insight into your site's visits and see how your listings perform.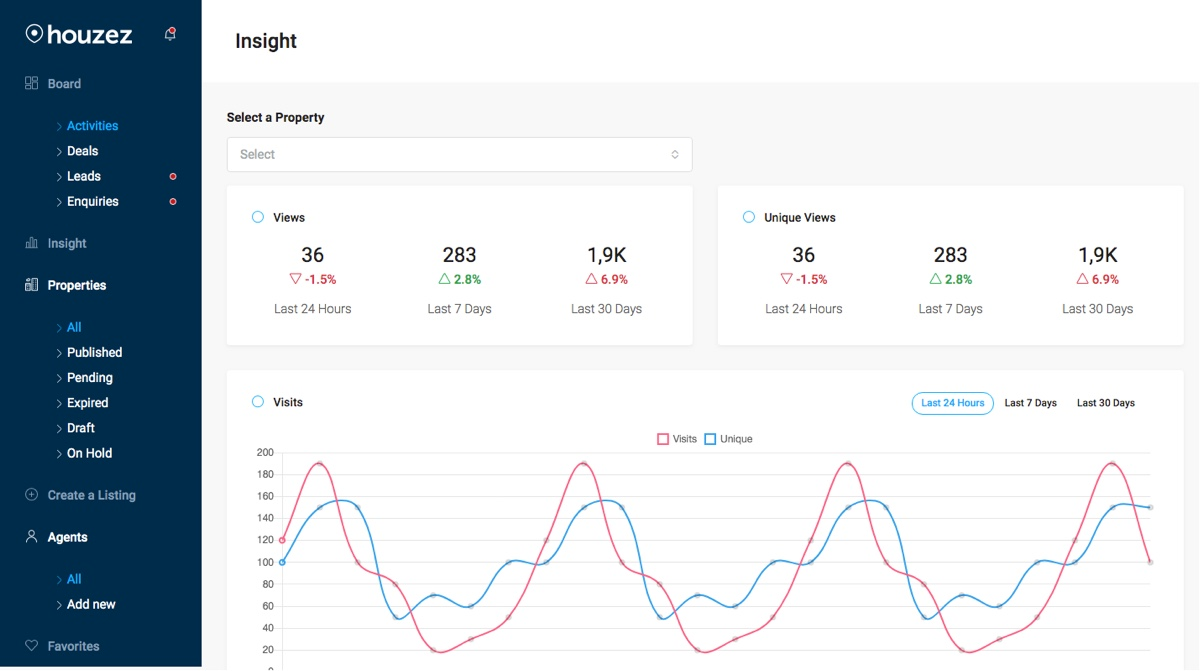 Generate Analytics And Effective Property Data That Matter: Focus on the data such as views and visits to get your listings off the ground faster

Understand the types of people who visit your properties: Review easy-to-read charts and reports to understand who visits your site

Analyze The Traffic Flows Around And Within Your Real Estate Website: Analyse all your visitors' sources whether they come from within your site or externally.
You can also take an eye on the customers better with the help of the
Charts: Visualise all the analytics data with easy-to-understand charts and diagrams
Traffic: Study the traffic and its sources and optimize your marketing efforts with ease
Visitors: Analyse your members and gain a better understanding of who they are
Locations: Easily see what geographic regions your visitors are coming from
Devices: Keep track of what devices are being used by your visitors to browse your site
Referrals: See the list of domains that referred visitors to your real estate website
Insights Options
Please go to Theme Options >> Insights Options >> Set the number of days to clear the insight data from the Insight Dashboard. Please see the below screenshot: