The Text with Icons Module allows you to display the text with different icons wherever on your website. To use the Text with Icons module be sure that you are working on a Visual Composer page template.
Add the Text with Icons V2 module to a page
Activate the Visual Composer Editor clicking on Backend Editor. Locate the Backend Editor button just below the page title. After clicking on the Backend Editor button you will see the WPBackery Page Builder section appear.
Use the button + Add Element to start to design your page and add content blocks or rows to your page.
Select By Favethemes
Click on Text with the Icons V2 module to place the module on the page.
Text with Icons Module V2 Settings
Once you have placed the module on the page, edit the module to access the popup settings panel displayed in the image below.
Columns: Select the number of columns
Save changes

Once you select the options above click on + icon inside the module row di display the panel below.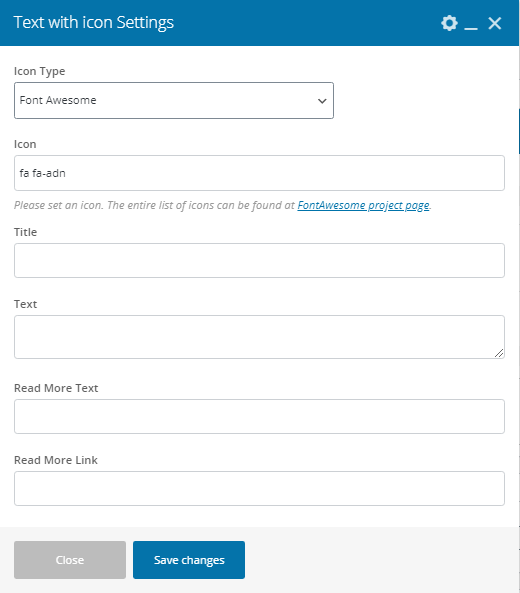 Icon Type: You can choose from FontAwesome or upload a custom image
Icon: Please set an icon. Note: Houzez is compatible with Font Awesome v.4.7.0. The entire list of icons can be found on the FontAwesome project page. For example, if an icon is named 'fa-angle-right', the value you have to add inside the field is 'angle-right'.
Title: Enter title
Text: Enter description
Read More Text: Enter the text for reading more
Read More Link: Enter the link for reading more text